How to Spot Meth Use
How do you know if someone you love may be using meth? Here are some tell-tale signs of symptoms of meth use and addiction:
Physical Symptoms
Dilated Pupils
Rapid Eye Movement
Grinding Teeth
Loss of Appetite
Facial Tics
Twitching or Jerking
Restlessness
Weight Loss
Excessive Scratching
Picking at Skin or Hair
Irregular Heartbeat
Nausea or Vomiting
Excessive Sweating
Behavioral Changes
Requesting to Borrow Money
Selling Possessions
Stealing
Disregard for Personal Appearance
Not Sleeping for Days or Weeks
Aggressive or Irritable
Violent Mood Swings
Persistent Need to Talk
Confusion or Memory Loss
Paranoia
Change in Academic Scores
Compulsive Lying
Evidence
Meth can be taken orally, smoked, snorted, or injected.
Lighter
Glass Pipe
Burned Foil
Light Bulbs
Short Straw
Hollowed-Out Pen
Glass Tube
Spoon
Syringe
Tourniquet
Did you know?
Meth releases 12x more dopamine into your body than either food or sex. That makes it highly pleasurable and highly addictive. Meth is 3x more addictive than cocaine and nearly impossible to quit without professional help.
Common street names from meth include: Bump, Chalk, Cookies, Cotton Candy, Crank, Crystal, Glass, Ice, Pookie, Quartz, Rocket Fuel, Speed, Shards, Scooby Snax, Tina, Trash, Tweak, Uppers, Wash, White Cross
Meth comes in many forms (powder, crystal, rock, tablets) and colors (depending upon how it was made).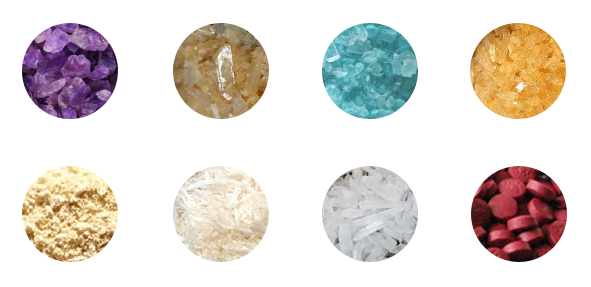 What can you do to help?
Talk to your children and family members about the risk and dangers of meth use.
Monitor the use of pseudoephedrine (cold medicine) in your home.
Refuse to purchase pseudoephedrine for another person.
Share your message about meth and join the conversation.
Get involved with our campaign.
If you see suspicious activity, call the law enforcement's drug tip line at 715-944-3749.